TUK in Partnership and Collaboration with Vaal University of Technology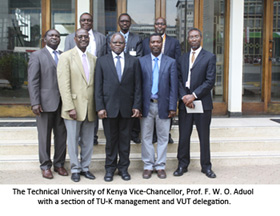 The Technical university of Kenya in its endeviours to strengthen its regional and international partnerships in technological education recently hosted a delegation from Vaal University of Technology (VUT) from South Africa(www.vut.ac.za).The meeting explored areas of possible corporation and partnership between the two institutions to facilitate the development of innovative products that would create employment opportunities for the youths as well as to improve the wealth portfolio of the two nations and the continent at large.
The Vice-Chancellor of The Technical University of Kenya Prof. Aduol was happy with the move and said that TUK is keen to establish a Memorandum of Understanding with VUT on identified areas for possible collaboration between the two institutions.
The Vaal University of Technology team was led by Prof. K. P. Dzvimbo, Deputy Vice-Chancellor, Academic and Research and accompanied by Prof. M. M.Ndege, Executive Dean, Faculty of Engineering and Technology and Prof. B. R. Mabuza, Executive Dean, Faculty of Applied and Computer Sciences.