TU-K Students Move Architecture Landscape a Notch Higher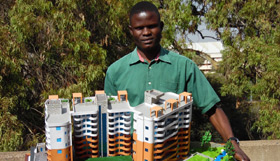 TU-K students are taking architecture modeling and landscaping practice a notch higher through innovative design techniques giving them muscle among local and international architectural consulting firms. They are doing this by giving life to the typical 3-D model impressions where they construct motion features including rivers, people, vehicles, birds, interior and exterior lighting. The students who are sub-contracted by registered Architecture companies, have so far been involved in construction of model impressions for the National Government, County Governments and private companies.
Under the business name, Polygon Model Makers, the team leader Mr Caleb Otieno, disclosed that the team brings in innovative ideas to give clients a better feel and impression of buildings and landscaping of projects that they intend to invest in. "We are a team of young innovators who are putting our minds together to invest in home grown solutions, we are working hard to generate employment instead of seeking to join established companies for employment," said Otieno.
Mr. Otieno who is a third year Architecture student indicated that the decision to pull together resources was prompted by Kenyan businesses having to use international companies to do modeling work that could be done locally. The other TU-K students who work with Mr. Otieno are Mike Etale, a finalist from the Journalism and Media studies department, he is in charge of media and publicity. Responsible for business development is Susan Kivuti a Sales and Marketing finalist. Another crucial member to the business operations is Geoffrey Abuki, an architecture finalist from the University of Nairobi.
Through their Facebook Account, the team has been approached by architecture firms and clients landing them big assignments among them; Central Bank of Kenya's extension and parking, Nandi County Assembly, West Pokot County Assembly and Apartments currently under construction on Riverside drive in Nairobi. "Through references, we were called to do the models of the two counties currently under construction, the CBK's assignment is one of our biggest and most exciting achievements," said Abuki.
Their work was recently featured on NTV's N-soko Property Show where they discussed market opportunities, and best practice in model making in the Architecture industry.