TU-K Hosts Africa Tech Challenge for the Third Time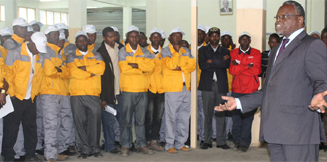 This year's Africa Tech Challenge which started yesterday at the Technical University of Kenya, has attracted more participants from different countries across the continent.
The Competition was officially opened by TU-K Vice-Chancellor Prof. Francis Aduol who thanked participants and welcomed them to the university reminding them to make use of the available resources.
The VC reminded them take the training seriously and not view it as a competition, since it will enable them meet the requirements of the industry. Prof. Aduol urged the participants to use the knowledge and skills acquired to change the continent.
"Consider this a great Privilege for yourselves and for us as a university to tell the world what we can offer. The training is in line with University's tradition of seeking the input of industry practitioners and professionals into the training activities, and integrating an elaborate and practical entrepreneurship program," he said.
The VC highlighted the importance of technology emphasizing that it drives many economies to compete globally. The Vice-chancellor talked about some of the courses offered in the university, innovations developed by the students during the training, equipments used in training among other things tailored to meet the country's manpower in pursuit of vision 2030.
While speaking about the role of Technical Training Institutes (TTI) in enhancing quality education in the country and beyond, the Professor explained that Technical Education plays a vital role in human resource development by creating skilled manpower, enhancing industrial productivity and improving the quality of life.
"Kenya, as most African countries, has been left behind in the economic transformation by countries which were at par in the 1960s; this is mainly due to the slow pace of industrialization. The lag in industrialization can be attributed largely to the lack of skilled manpower," he noted.
VC explained that the pioneer universities in the region have been producing Engineers and Scientists with Bachelor of Science or Bachelor of Engineering Degrees which focus on conceptualization and design but not on production of goods and provision of services.
"The professionals who translate the designs and concepts into practical products and services, known as Technologists, have largely been lacking in our education and training system," he added.
Prof. Aduol explained that the current practice in Kenya is that, the Engineer performs the Engineering Technologist's work, an anomaly that needs to be corrected if the country is to industrialize. He emphasized that the Kenyan Engineers should be encouraged to design products that can discourage importation of engineers from all over the world including the design and construction of roads.
The VC welcomed participants to enrol as students of the university, as it strives to remain a top rated University of Technology.
The training is sponsored by Avic International and aims at curbing unemployment, producing hands on graduates as well as entrepreneurs.