TU-K to host Radio Astronomy Training in Africa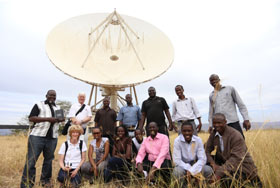 The Technical University of Kenya's School of Physical Science and Technology played host to an exciting training programme in radio astronomy under the Square Kilometer Array (SKA) project. Two Physics and Space Science students, together with10 others from other local universities, were taken through an initial two-week study programme of a Mega-Science Radio Astronomy Project that will set base in Longonot within five years. The site will be used in space studies as well as technological research.
According to Prof Peter Wilkinson, the Director of Research, School of Physics at the University of Manchester, Plans are currently underway to refurbish the old Longonot Satellite Earth Communication Station into a modern state of the art Radio telescope. The old station was phased out by fiber optic technology in 2013.

Prof. Wilkinson who is the lead instructor in Kenya's Square Kilometer Array (SKA) project, believes that this African initiative will be the next driver of technological growth in the continents economy.
Arial view of the Longonot Satellite Earth Communication Station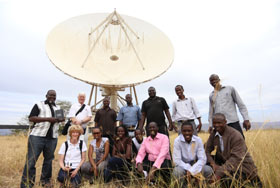 The Radio Astronomy scholars with Prof. Peter Wilkinson (Second left back row), Dr. Althea Wilkinson (left front row) from Manchester University and Prof Paul Baki (Left back row) Director at TU-K's School of Physical Sciences
"The project is geared towards training young minds in pure sciences, it is tuned to building of high technology quality ideas, high performance computing and generation of big data," said Prof Wilkinson. Wilkinson also said that Africa's growth is heavily dependent on proper knowledge in the space sciences. "Innovations like the manufacturing of mobile phones is borrowed from radio astronomy, Wi-Fi technology is also space science based," Wilkinson is conducting this training alongside Dr. Althea Wilkinson who is also from the University of Manchester while The Technical University's (TU-K) School of Physical Sciences and Technology Director Prof Paul Baki is overseeing the entire training process in the country.
Speaking during a visit to the Longonot site, Prof Baki said that "In five years' time, renovation of the Longonot Communication satellite will be underway and in 10 year-time, the station will be up and running". The space experts are currently taking the trainee group through initial studies in Radio Astronomy at TU-K. After this, the team will proceed to South Africa in February 2016 for a month's training. The project is currently running in South Africa (the current headquarters), and in Kenya, Namibia and Zambia. There are plans to expand it to Ghana, Botswana, Mozambique and Mauritius.
The training running under the Square Kilometer Array (SKA) is funded by United Kingdom government through Newton Fund Project.