Ripe Ground for Film Production; Fresh Local Content on High Demand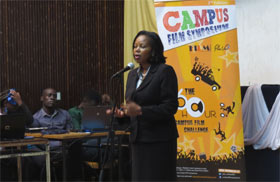 Graduates in creative arts now have ripe ground to produce fresh local film content that is on high demand in Kenya internationally.
Digital migration, technology penetration in Kenya as well as local film industry capacity building is opening up and reshaping the film environment for the youth to explore their talents and make a living. This is according to Kenya Film Commission CEO, Miss Lizzie Chengoti
"Fresh African content is most sought after by international players, it is our sole responsibility to take up the opportunities we have to tell our 'African Story' through our own narrative," the CEO said.
Miss Chengoti was speaking to Communication and Media students from eights universities during the 6th edition of the 'Campus Film Symposium', an initiative by the publishers of Film Kenya Magazine at Technical University of Kenya. The three-day film screening is organized by FilmVue, in conjunction with TU-K's Department of Journalism and Media Studies.
She also noted that the government is putting up pillars to support film industries that include capacity building for independent film makers and asked the students to enroll in professional film and arts associations that give them a stepping ground to the industry once they graduate.
"As we market the country as a film destination, we have realized that there is a shortfall in cast and crew talent in Kenya and thus it is critical to reinforce that you are perusing an important career." She said.
The Film commission CEO also told the students that Kenyans need to be able to tell their own stories so that they have a choice on what to watch, there is an urgent need for content done by Kenyans for Kenyans". She added.
"Current Kenyan legislation calls for the need of 60 percent of content on television shows as well as 40 percent of advertisements to be local, there is a need to develop new and fresh content by locals in order to reduce the amount Mexican, South African and Nigerian content that has long reigned supreme in local Kenyan stations." She added.
At the same time, event organizer Mr. Eddy Irura said that the Symposium aims at establishing a film culture among students. "We want to cultivate a tangible passion for local content delivery, the incorporation of industry players in the programme through group discussions and presentations enables networking and career development potential for film and media students. Said Mr. Irura.
The Chair of the Department of Journalism and Media Studies Dr. Joyce Omwoha, welcomed participants to TU-K and called for concerted efforts by all film industry stakeholders to ensure content production meet local and international standards.
"The vision behind this campus based programme is to tap into the vibrancy and creative minds of students looking to venture in Film and TV by providing an opportunity for interaction and appreciation of the art that is Storytelling." She said.
The 3 day symposium will run from the 17th to the 20th of May and will culminate in a 60-hour film challenge that will run from the 20th of May to the 22nd of May 2016.