KWS staff and TU-K students assess a stockpile of rhino horns and elephant tusks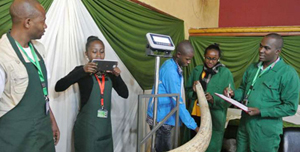 At the Kenya Wildlife Service headquarters in Nairobi, staff conservationists and students from the Technical University of Kenya (TUK) are busy assessing stockpiles of rhino horns and elephant tusks.
Working is small teams scattered across one of the halls at the organisation, each group is weighing, and photographing the stockpiles whilst feeding this information into an online platform through computer tablets.
The stock taking, which has been going on for about three weeks now, is aimed at creating a online database of all rhino horns and elephant tusks held by the Kenya Wildlife Service (KWS) and other government agencies.
"We have been taking manual inventories of these stockpiles over the years. But this is special. It's the first time we are doing it digitally," explains Paul Muya, an information officer at KWS as he walks round the hall monitoring the activities.
He adds that the organisation, in partnership with Save the Elephants and Stop Ivory, has embarked on a one-off exercise aimed at migrating existing records about the stockpiles from manual files to a digital platform that will be centrally managed at the KWS head office.
Prof Judi Wakhungu, Cabinet Secretary of the Ministry of Environment and National resources said that once completed – in about a month – the digital inventory will form the basis for future national audits of the stockpiles as required by law.
As per the 2013 Wildlife Act for instance, KWS is expected to conduct yearly audits of government held trophy stockpiles - such as ivories or rhino horns- and publish the results in the Kenya Gazette. The online platform is expected to facilitate this process. It will also make it easy for KWS to retrieve, share and manage huge volumes of information.
"The manual inventory proved a challenge as some of the records were prone to theft or damage especially after being stored for years," Mr Muya explained.
The inventory will also enable the country to fulfil its obligation to the Convention on International Trade in Endangered Species (CITES) which recommends that its state parties have appropriate inventories to properly manage ivory within their jurisdiction.
From the KWS online inventory database, authorised users will get information about the unique identification number of each elephant ivory or rhino horn as well as the location of their origins.
With the availability of all this information at the touch of a button, KWS will easily monitor trends and pinpoint locations where rhinos or elephants are at great risk of dying - through poaching, natural causes or human wildlife conflict - thus enabling the organisation to act accordingly.
The information being fed into the digital inventory includes photographic images and detailed physical attributes of the horns and ivories. The online platform is also capturing the weight and measurements of each of the trophies.
"By assessing the characteristics of the trophies like ivories, one can determine the age and gender of elephants that had them. And so we can tell the population dynamics of elephants targeted," explained Jim Nyamu, Executive Director of Elephant Neighbours Centre and a conservation research scientist.
As the inventory goes on, KWS scientists are also collecting DNA samples of the trophies which will be used in the creation of a DNA Reference Library aimed at profiling Kenya's population of rhinos and elephants. Nyamu stated that this information can provide evidence for use in prosecution of wildlife crimes."Authorities will be able to know the exact origin of each trophy and determine whether the affected rhinos or elephants are from Kenya or another country."
The stockpiles in government's possession are acquired when trophies are seized from poachers. The horns and ivories may also originate from rhinos or elephants that die a natural death or are killed due to human-wildlife conflict.
Without a proper inventory system, these stockpiles become susceptible to leakages, making it easy for unscrupulous individuals to sneak out elephant ivory and rhino horns for sale in the black market.
In certain instances, some may proceed to cover their tusks by killing other elephants or rhinos to replenish the stock of trophies they sold thus dealing a major blow at conservation efforts aimed at protecting these vulnerable species.
In March President Uhuru Kenyatta set fire to 15 tonnes of elephant ivory estimated to be worth approximately Sh3 billion ($30 million) in the illegal black market. He promise to further destroy more government-held stocks of ivory, rhino horns and other trophies by the end of this year.
Mr Muya said the digital inventory will guide this process. "Once we have determined the quantity of stockpiles we have in the country a decision will be made on the amount to be destroyed and the few to be left behind for research and conservation education purposes."
Dr Richard Leakey, chairman of the KWS Board of Trustees stated that aside from creating public awareness on the ill effects of poaching, such public destruction of trophies also sends a message that trophies are worthless.
"They should only be seen as valuable when on an animal."
Wildlife safaris are major drivers to the tourism industry which contributes immensely to Kenya's gross domestic product. But poaching is now posing a threat to this profitable sector.
Already African elephants and rhinos are listed as threatened species with the risk of becoming extinct if the problem of poaching remains unresolved. The poaching surge in the country and the entire sub-Saharan Africa is mainly driven by the huge demand for ivory and rhino horns in Asia, where they are use in folk medicine and curving industry.
In a bid to curb the illegal trade, the government last year enacted a new law, slapping stiff penalties – life imprisonment and a fine of more than Sh20 million - to dealers in illegal animal trophies.