Hilton Hotel to Sign MOU with TU-K
The Technical University of Kenya and Hilton Hotel will soon sign a memorandum of understanding to promote skills development among staff and students in the School of Hospitality and Tourism Studies. This was disclosed on Thursday October 15, 2015 when the Global Head of Hilton Brand Mr. Rob Palleschi, paid a courtesy call on TU-K Vice-Chancellor Prof. Francis Aduol.

Mr. Palleschi indicated that the Hilton will consider donating some equipment to TU-K in future to support teaching and research. The hotel is one of the biggest suppliers of waste vegetable oil TU-K is using as raw material for the production of biodiesel. The fuel is considered environment friendly. The Hilton boss's visit calumniated in the ceremony dubbed, "Global Month of Service," the company's worldwide annual volunteer event designed to address the social, economic and environmental needs in different countries. Out of the 4,000 hotels worldwide, Hilton Nairobi was ranked among the 12 hotels to have been selected in recognition of her effort in community service for instance in conservation of environment.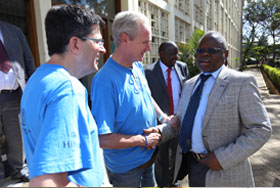 The Technical University of Kenya Vice Chancellor Prof. Francis Aduol exchanging pleasantries with Hilton Hotels and Resorts Global Head Mr. Rob Palleschi (in spectacles) and Hilton Nairobi General Manager Mr. Martin Uoskamp when they paid him a courtesy call.
Deputy Vice-Chancellor in charge of Technology Innovation and Partnership Prof Suki Mwendwa receiving cooking oil donated by Hilton Hotel Nairobi. This would be used in processing of Bio-diesel.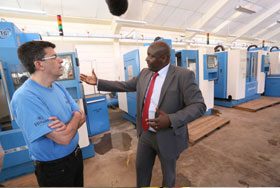 TU-K Center for Engineering and Production Director Dr. Eric Ogur, taking Mr. Rob Palleschi through university laboratories and workshops when the team toured the institution.
Mr. Palleschi noted that the hotel works with 25 institutions globally among them TU-K. The university has been working with the hotel for the last two years, sharing technology on green energy research on biodiesel. Prof. Aduol thanked Mr. Palleschi and his team noting that their presence was a great honour adding that the university was happy to work with the hotel. The engagement will strengthen and promote innovation, research and networks. The VC observed that the collaboration would in future see students and staff attend Industry Based Learning (IBL) otherwise known as external attachment at the Hilton. This he said will impart them with the requisite knowledge and skills required by the industry. The team was taken round the university laboratories and workshops and were impressed by the demonstration on biodiesel production as well as other innovations by the students. Hilton brand has 70 hotels across Middle East and Africa out of which 36 are found in Africa.
Community service is a tradition embedded in the company for nearly 100 years. Team Members dedicate their time, passion and unique brand of hospitality to create positive change in their local communities. Global Month of Service mobilises hundreds of thousands of team members from every region to engage in numerous volunteer events and activities happening around the world. They offer their time to support a wide range of projects including conserving natural resources, mentoring and training young people, creating amenity care packages for communities. The company targets 3,750 projects this year. Mr. Palleschi was accompanied by Brand Vice- President, Mr. Andreas Lackner, Hilton Nairobi General Manager Mr. Martin Uoskamp, among others. TU-K senior members of staff included, Prof. Suki Mwendwa, Deputy Vice-Chancellor in charge of Technology, Innovation and Partnerships, Prof. Alex Muumbo, Executive Dean Faculty of Engineering Sciences and Technology, Prof. Wilson Ogola, Director, University-Industry Partnerships and Dr. Eric Ogur, Centre for Engineering Innovation and Production.