Department Of Chemical Sciences and Technology (DCST) to install chemical security and surveillance systems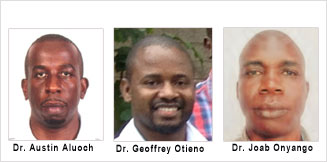 The Department of Chemical Sciences and Technology has won a grant from the US Department of State's Chemical Security Program (CSP) to Improve Chemical Security in the department's laboratories and facilities.

The project which will be implemented by Dr. Austin Aluoch, Dr. Geoffrey Otieno and Dr. Joab Onyango will improve chemical security in the laboratory by: 1) reducing the risk of diversion of chemicals used in the DCST labs, since the labs will be under 24 hrs surveillance; 2) Enhancing awareness and surveillance and therefore mitigating insider threats; 3) Enhancing controlled access to chemicals and laboratories thereby reducing the possibility of unauthorized person gaining access to the laboratories and chemicals.

In specific, the project will install access control gadgets in departments' doors, install and operationalize CCTV cameras, construct a modern lockable fumehood and purchase lockable chemical refrigerators for use in the labs and chemical stores.

This grant comes in the wake of the department's flagship role in trainings and capacity building on Chemical Safety and Security in Kenya.