Chancellor Tips Students on the Virtue of Hard Work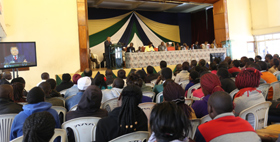 For the first time in the history of The Technical University of Kenya, the Chancellor, Dr Manu Chandaria addressed First Year students on September 2, 2016 to mark the climax of their orientation week. Traditionally it is the Vice-Chancellor who addresses First Year students to mark the equivalent of a matriculation ritual practiced by many universities across the globe, when new students are formally ushered into the university.
Dr Chandaria used the occasion to counsel the new students on the virtues of hard work and staying focused if they must succeed in their academic pursuits and future in general. "Just like those aspiring to go to Heaven must first die, so is success – you must work with zeal".
The Chancellor told the students that by joining TU-K, the students had entered a critical stage in their lives that had marked the beginning of a real change. "You can be the best and be anything you want to be in future. The time to make it happen starts now. Stay the course and be focused," said Dr Chandaria.
Dr Chandaria asked students not to ignore other aspects of self-development such as discipline, commitment, humility and hard work without which they can't succeed.
The Chairman of Council, Prof Godfrey Nguru, a member of Council, Ms Isabela – Ochola and senior TU-K staff led by the Vice-Chancellor, Prof Francis Aduol attended the event.
Prof Nguru called on Kenyans to change their attitude towards TIVET courses for the country to achieve its development agenda. "Even you as students, to do well in your academic pursuits you must change attitude and how you do things."
Now you have joined university. It is not like high school where some of you were attended single gender classes. Here you learn together and nobody will punish you for coming to class late or not doing your assignments. You can decide to sleep the whole week. It is you to choose what you want to do with your time but remember choices have consequences.
Prof Nguru implored the students to avoid bad company because it can easily ruin their otherwise bright future. "Some of your comrades may come around bragging how they don't read a lot. Then if you are foolish enough, you may follow their example without knowing that they in fact study at night or when alone," said Prof Nguru.
He asked the new students to start taking their studies very serious right away since at the end of their studies, the class of degree one obtains will determine the course of their academic future.
Ms Ochola asked the advised the students to utilise well their time while at TU-K. She implored them to always engage in dialogue as opposed to resorting to violence while seeking solutions to their grievances. "Just work hard, be proud of TU-K and make sure you leave here a better person than when you joined," said Ms Ochola.