5th Kenya South Africa Research Grants Program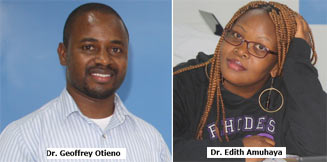 NACOSTI has released the list of successful applicants for the 5th call for Kenya-South Africa Joint Research Program. Out of the 12 nationally awarded projects, 2 were from The Technical University of Kenya, specifically the Department of Chemical Science and Technology.

The 2 awarded grants were led by Dr. Geoffrey Otieno and Dr. Edith Amuhaya. Other involved researchers include Dr. Joab Onyango, Mr. Fred Sawenja , Mr. Simon Adede and Ms. Pesila Odera.
Dr. Otieno research on Nanofiltering System Based on nanoSilver, nanoTitania and Bone Char for one step removal of Organic, Inorganic and Microbial Water Pollutants budgeted at 2.7 Million Kenya Shillings while Dr. Amuhaya's research on Novel water soluble porphyrins for PDT is budgeted at 2.6 Million Kenya Shillings. The two projects will involve 2 PhD and 1 master's student over a period of 3 years.

https://www.nacosti.go.ke/images/docs/successful%20applicants%20under%205th%20call%20for%20SA%20Kenya.pdf